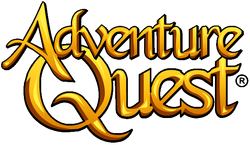 Welcome to AdventureQuest Wiki!
The comprehensive encyclopedia for the AdventureQuest universe.
5,862 articles created and 3,954 images uploaded since January 2006.
AdventureQuest Wiki
AdventureQuest Wiki is a community dedicated to the Web-based Flash Role-Playing Game AdventureQuest RPG, created and updated by Artix Entertainment, LLC. AQWiki aims to provide a comprehensive and accurate store of information about AdventureQuest that is mostly editable, with the exception of this main page to prevent vandalism. AdventureQuest requires nothing more than an Internet connection, a Web browser, and version 8.0 or above of the free plug-in Macromedia Flash to play.
It is free-of-charge to play. However, players can pay a one-time fee of $19.95 to upgrade their characters from an Adventurer (free member) to a Guardian for special in-game perks, or $24.95 to upgrade to an X-Guardian for even more perks. The price to upgrade to an X-Guardian for an existing Guardian is $10.00
Wiki News!

 

Weekly Content

Z-Token Special! Login and play 20 out of the 31 days in August and we will give you 2500 Z-Tokens! Coming This Week: Zee's Birthday Shop Plus More! Zee the Legend levels up and is bringing a new series of equipment to his Birthday Shop! Plus we have updated tiering for existing items. Guardian Tower Shop: Also check out the new Guardian Awe Wings Armor in the Guardian Tower! Don't miss out on the new Referral Challenge for a chance to win some awesome prizes!

AdventureQuest Team Twitter!

 

Monthtly Featured Article!

 

"Hiya!"
—Twilly,Twilly is a small red orange moglin (whose favorite town is Battleon and is almost always found there) that heals travellers, and offers information for newcomers. Aside from the many quests that are available through him, he seems to appear in... almost every quest and war when the players needs him!

Not only he gives the player access to the Stat Trainers, the Zardhunter and Valencia, but he also has the player's moral compass. On some days, Twilly is either replaced or given an umbrella, to fit in with the occasional rain. (More...)

Helping the Wiki!

 

All pages can be edited and you are welcome to

join us

and contribute to this wiki. If you have any questions about the wiki or helping out, you can ask one of AdventureQuest Wiki's

administrators

.

To write a new article, just enter the article title in the box below.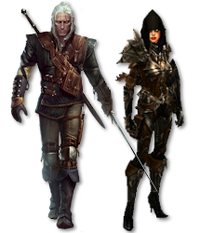 RPG Games
Go to these sites for info or for help with your own wiki!
AdventureQuest • Agarest War • Arcanum: Of Steamworks and Magick Obscura • Baldur's Gate • Biomutant • Dark Souls • Deus Ex • Diablo • Divinity • Dragon Age • Dragon Blaze • Dragon's Dogma • Elder Scrolls • Expeditions: Viking • Fable • Fallout • Faster Than Light • Fate/Grand Order • Five Nights at Freddy's World • For Honor • Grand Chase • Hyper Light Drifter • Ib • Legend of Heroes • Mass Effect • Might & Magic • Onmyoji • Shadowrun • SpellForce • Summoners War • Tales of Erin • Tom Clancy's The Division • Torment • Undertale • Wasteland • The Witcher
Want your community included? See how!
See all of our RPG gaming wikis!