Level: 40 Power Level: 60, Mastercraft MP Level: 55
Price: 1125 Z-Tokens Sellback: 1013 Z-Tokens for the first 48 hours, 563 Z-Tokens afterward Location: Quest for the Terror Set Element: Neutral
DEFENSE MODIFIERS Melee: 40 Ranged: 30 Magic: 40
ELEMENTAL RESISTANCES Fire: 90% Water: 90% Ice: 90% Wind: 72% Earth: 90% Energy: 95% Light: 100% Darkness: 69%
NORMAL ATTACK ATTACK #1 Hits: 1 Damage: 137% Base, Random, and Stat Damage Type: «As Weapon» Element: «As Weapon» BtH: +9 plus Stats Rate: 50% ATTACK #2 Hits: 2 Damage: 137% Base, Random, and Stat Damage each Type: «As Weapon» Element: «As Weapon» BtH: +9 plus Stats each Rate: 50% SKILLS

FEAR Hits: 1 Damage: 349.35% Base, Random, and Stat Damage Type: «As Weapon» Element: Darkness BtH: +9 plus Stats Effect:
If the hit connects, then it attempts to make the monster Afraid (4 turns; 25% chance of not acting†)*, subject to a save**:
Note: This is a skill. Your weapon's Special can still occur. If it does, then you do the Special instead, and you don't spend any SP. Cost: 128 SP
Level: 60 vs MonsterLvl Major: 140 vs MonsterCHA Minor: YourLUK vs MonsterLUK
The monster gets a +20 bonus to its save. Darkness-element monsters are immune to this effect***. †FULL SET BONUS

If you switch out an item so that you're no longer in the full Terror Set, then these bonuses disappear.
*Your foe cowers before you!
Your foe stands strong in face of your assault!

Creatures of Darkness are immune to your Fear!

Your foe trembles before the true meaning of Fear!
DESCRIPTION Striking pure fear into the hearts of your enemies is what this armor was forged to do!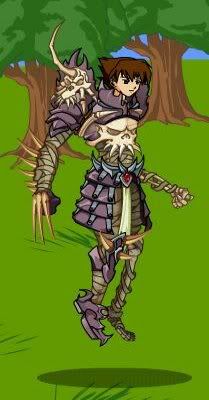 Community content is available under
CC-BY-SA
unless otherwise noted.