Fighter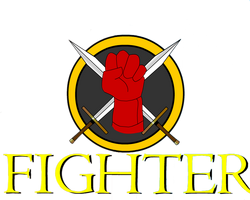 The Fighter Class is one of the three classes available at the start of the game. Fighters focus mainly on their Strength attribute to master the basic arts of being a warrior. To become a member of the Fighter class, talk to Blackhawke in the BattleOn Inn. 
This class serves as a prerequisite for more advanced classes, such as Martial Artist, Paladin, Knight, Pirate and Berserker.
Level One - Weapon Proficiency
Imbue your strikes with melee proficiency for 1SP per round
This ability is toggled on/off
Cost: 1 SP per round
This changes all your attacks to melee.
Level Two - Improved Armor
Your armor has been upgraded, granting you better defence and resistances.
Cost: 0 MP
+5 to Melee and Ranged defenses and -5% to Water and Earth resistances.
Level Three - Brutal Strike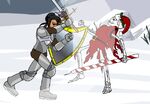 Make a brutal but inaccurate attack to inflict extra damage on your enemies.
Cost: 10 SP Does 1 hit for 120% Base and 110% Random damage but with -5 Bonus to Hit.
Level Four - Intense Focus
Focus your mind on dealing damage, reducing your defences but making your attacks more powerful and giving a small chance to strike a crushing blow.
This ability is toggled on/off
Cost: 0 MP
-5 to all defenses. All attacks have their Base and Random damage increased by 10%. There is a 10% chance that the attack would be increased by 30% instead.
Level Five - Call Friend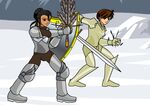 Call a friend to accompany you into battle. He makes a 2 hit attack.
Cost: 40 SP
Summons a Fighter Friend.
Level Six (Guardian Only) - Reinforced Armor
You have upgraded your armor again, improving your defences and resistance.
Cost: 0 MP
+5 to Melee defense and -5% to wind and ice resistances.
Level Seven (Guardian Only) - Combat Expertise
Your training grants you +5 BtH on your melee attacks.
Cost: 0 MP
+5 Bonus to Hit for all player melee attacks.
Level Eight (Guardian Only) - Double Attack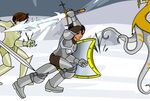 Strike two quick blows at the cost of accuracy.
Cost: 15 SP Does 2 hits for 75% Base and 50% Random each with -5 BtH.
Level Nine (Guardian Only) - Strength Boost
Increase your strength by 10 for the duration of the battle.
This ability is toggled on/off
Cost: 15 SP
Increases Strength by 10.
Level Ten (Guardian Only) - Power Attack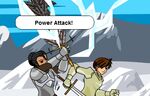 Make a single powerful but inaccurate strike.
Cost: 20 SP Does 1 hit for 200% Base and Random but with -5 BtH.
Challengers
After becoming level 10 fighter, you can click on "Bring on the Challengers!" button.
Challengers:
Community content is available under
CC-BY-SA
unless otherwise noted.