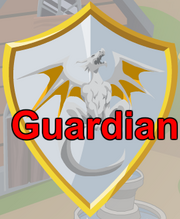 Guardians are characters in AdventureQuest who are able to access all the features of the game. They generally have an advantage over adventurers, such as being able to purchase considerably powerful items from shops, the ability to level to 10 on all classes, and the ability to access the game any time they wish.
Obtaining Guardianship
There are two ways in which one can become a Guardian. The first is through a one-time only payment of $19.95 USD that goes to maintaining game server costs. The transaction may be done through PayPal, Pay-By-Cash or through direct payments through snail mail, though the latter is generally not recommended due to the possibility that the money might be lost.
Another way of becoming a Guardian is to receive an upgrade from a friend. This mode of upgrading involves getting someone else to help donate, thus upgrading your account into that of a Guardian. Transactions made this way usually receive a discount during the Christmas Holidays.
Perks
These are several perks one gets when a person upgrades to a Guardian.
Full Access to the Game
Many quests and events are Guardian-only (for example, the Custom Weapon Quest), and most events begin as Guardian-only features and unlock to Adventurers at a later date.
Extra Class levels
For older classes, the latter five skills for a class may be used by Guardians but not by Adventurers. Newer classes have every other skill (skills 2, 4, 6, 8, and 10) only usable by upgraded characters. Many of these skills are useful and give upgraded characters an advantage over adventurers, such as Yajuu Daigeki from the Assassin Class being the only class skill that can do direct harm damage.
Guardian Shop
The Guardian shop has many items that a person may use to aid him/her in their battles. Some items are outdated and made obsolete by many newer items, but items that are post-sweep can be a character's best choice for their level.
Guardian Blade
Upon upgrading to a Guardian, the Adventurer's no-drop weapon the Long Sword is replaced by the Guardian Blade. This blade is decidedly more powerful than the Long Sword, with a 5% chance on each Attack to summon the Guardian Dragon or the Guardian Dragon Junior.
Guardian Armor
Guardians will get the Guardian Plate, Guardian Leather, or Guardian Robes as their no-drop armor. They are more powerful than their adventurer versions and have their own special abilities when using the appropriate weapon type with the armor.
Potion Upgrade
Guardians receive 2 Health Potions and 2 Mana Potions automatically when they log in, in comparison to Adventurers, who only receive 1 of each potion type. Additionally, Guardians can top-up their potion count to 5 with minimal effort by visiting one of several quests and clicking on the potion bags located there.
In addition, AdventureQuest X-Guardians receive an additional starting Health and Mana Potion, giving a total of 3 starting potions.
Higher Level Cap
All upgraded characters have a level cap of 150, while Adventurers have a level cap of 135. This higher cap give guardians an option for an entire class of weapons, armors, and other items unavailable to those that aren't Guardians.
Guardian Tower
The Guardian Tower, directly accessible from the main town, acts as a portal for many Guardian-only features. This includes free temporary armors and weapons, among many other items.
Guardian Arena
Only Guardians are able to access the Guardian Arena, which contain 10 challenges. Each challenge is comprised of a series of monster fights, and a few temporary helmets and a guest (the Guardian Angel) are unlocked after certain challenges are completed.
Travel
Some locations can only be accessed by Guardians, such as The Secret in Darkovia Forest. The Crossroads acts as a portal to many other places where interesting challenges can be found, and only Guardians can access it. Adventurers can also access it, but only by a round-about method by creating a Pet Rock pet and giving it to Valencia.
Blade of Awe
The Blade of Awe is one of the strongest weapons in the game, and when forged by Valencia the rare item hunter, it replaces the Guardian Blade as the Guardian's no-drop weapon. There is a 1.5% chance on each Attack that the Power Word Die special will be performed, killing the monster or group of monsters instantly when a roll is successful. There are also various other useful and powerful special attacks, some of which heal your HP or MP.
Dragon Blade
The Dragon Blade is a temporary weapon that triggers against Dragons and Dragonkind and transforms into a very powerful version of itself. In this form, it does Harm damage to dragon-kin and Void damage to dragons, thereby bypassing the monster's elemental resistances.
Support the Artix Entertainment Team
Buying Guardianship helps the AE Team and AdventureQuest Team so that they can make new, awesome releases for the players every week (or every month, in the case of Warpforce). If they didn't have enough money for things such as server costs, then it wouldn't be good for the players and it wouldn't be good for them. You don't want that to happen, don't you?
External links
See also