Element: Energy
Attack Type: Melee
Damage: 7-23
BTH: 5%
TRIGGER
Trigger: Monster category "Leprechaun"
Effect: 120% Base, Random, and Stat damage. Applies to player attacks and the Special.
SPECIAL
Hits: 3
Type: Magic
Element: Energy
Damage: 108% Base and Random each
Stats: No
BTH: +4% each
Rate: 20%
DESCRIPTION The ancient Shelayleigh weapon is a mace that was forged to do battle with the Leprechauns. This is the weapon that kept the Leprechauns hidden away on the other side of the rainbow for centuries! Does 20% more damage to Leprechauns.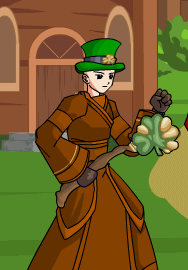 Community content is available under
CC-BY-SA
unless otherwise noted.