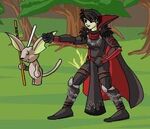 Thrakus was a vampire who led a team of vampire bats and warriors into Moglin territory during the Werewolf/Vampire intro war. He revealed that the reason behind the war was because all the humans gave too much trouble whenever they had to feast, so they decided to prey on Moglins instead, since they were tastier and more filling and didn't put up much of a fight.
Thrakus was about to drink a captured Moglin named Stinky dry, but at the last second, an Alpha Werewolf (possibly Hragfen) snatched him away and attacked him off screen, probably killing him in the process.
Community content is available under
CC-BY-SA
unless otherwise noted.