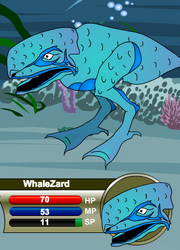 WhaleZard

Level:
15
XP:
31
Gold:
10
Element:
Water
Power:
Power Needed
HP:
HP Needed
MP:
MP Needed
Combat Defence
Melee:
9
Ranged:
9
Magic:
9
Attributes
Strength:
5
Dexterity:
0
Intellect:
0
Endurance:
0
Charisma:
0
Luck:
0
Element Modifier
Fire:
120%
Water:
60%
Wind:
100%
Ice:
80%
Earth:
100%
Energy:
140%
Light:
120%
Darkness:
80%
Description
The ZardMaster in his quest to blend Zard DNA combined the TadZard with the oceans most massive creature: the Battle Whale. Now with the WhaleZard roaming the depths adventurers should take care when they go swimming.
Community content is available under
CC-BY-SA
unless otherwise noted.